Lemon zest or lemon extract? Pecans or walnuts? The stakes were high at the first "Great Cookie Book Taste Off." Milwaukee media celebrities and first responders got a chance to taste some of the cookies featured in the 2023 We Energies Cookie Book.
Six teams of three tasted three cookies from this year's book and were asked to guess their ingredients with bragging rights on the line.
Susan Kim from Today's TMJ4 came to the competition full of confidence and ready to serve a little intimidation to her competition. She brought a certificate she earned from We Energies back in 2019 for baking every single recipe in that year's book.
TMJ4 story on the Great Cookie Book Taste Off
"When the competition is tough, you have to come prepared," she said.
Contestants tasted, smelled and examined the cookies to determine what ingredients were in the first two cookies and what ingredients were not in the third cookie.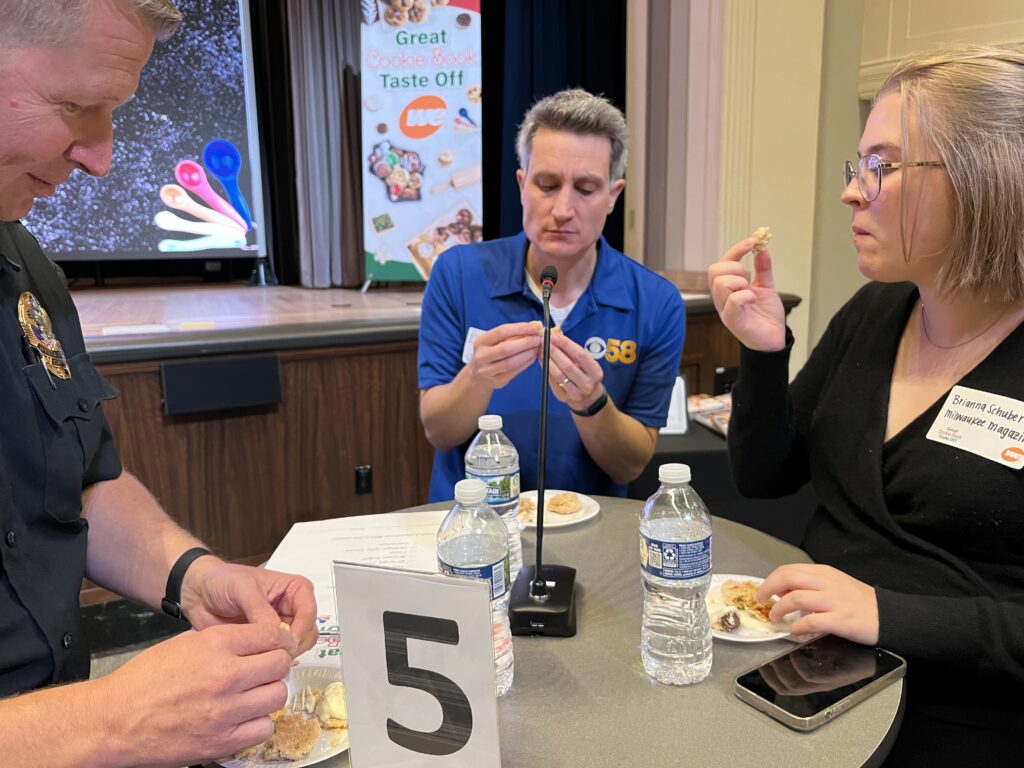 CBS 58 Chief Meteorologist Drew Burgoyne had a very scientific strategy to win. "I don't do any baking, but I used to play with my food as child. I just got in there, ripped it apart, played with it, and I think the strategy worked."
In the end, two of the competing teams ended in a tie for first place and were named the first champions of the "Great Cookie Book Taste Off."
"Did you notice the swagger I walked into the newsroom with today?" said Ben Handelman on Fox 6 News that evening. "I'm a different person since winning."
Congratulations to the champions:
Team 2
Ben Handelman, Fox 6
Chief Colin Hennessey, Town of Paris Fire Department
Alex Groth, Milwaukee Journal Sentinel
Team 5
Drew Burgoyne, CBS58
Brianna Schubert, Milwaukee Magazine
Captain Todd Clementi, West Allis Police Department
Milwaukee Magazine story on the Great Cookie Book Taste Off
Cookie Book coming Nov. 1
The 2023 We Energies Cookie Book celebrates first responders. Each of the 36 recipes is from a current or retired first responder. The book is available online Wednesday, Nov. 1, and will be available for distribution events across the state throughout November.