Lois Hartwig has been making No-Bake Heavenly Bars, since her three sons were young.
Lois' recipe is one of 35 baked treats in this year's We Energies Cookie Book that honors first responders.
Lois said when her sons were teenagers the treats were a staple at their sports team gatherings. The bars, made in a jellyroll pan, yield about 3 dozen servings — perfect for a large crowd.
"The boys couldn't get enough of them," said Lois.
Adam, her youngest, loved the bars the most. She said, one night, he polished off half a pan of the bars himself.
Adam was a deputy with the Ozaukee County Sheriff's Department. In 2016, Adam died suddenly at 30 years old.
"The name of these bars became so much more significant (after his death)," said Lois.
Lois now shares these bars with her grandchildren, including Adam's son, Waylen.
"He loves the No-Bake Heavenly Bars. He has so many similarities to his dad," she said.
Lois shared that it was important for Adam to serve in law enforcement in the community where he was born and raised. Adam's family continues his public service through high school scholarships and contributions to law enforcement, including the donation of a fitness center to the Ozaukee County Sheriff's Department in Adam's name.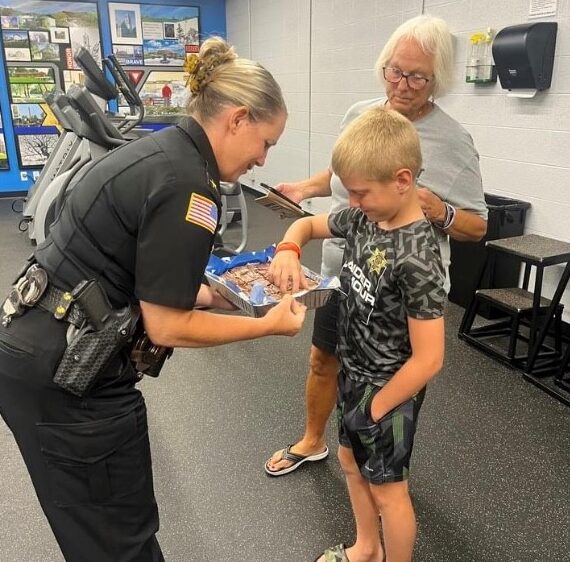 The support Lois and her family have received over the years is something they cherish.
"It's important to keep his memory alive. It's important for Adam's son," said Lois.
Lois is honored that Adam's memory will now also live on in the 2023 We Energies Cookie Book, as new families enjoy the No-Bake Heavenly Bars that keep Adam's memory alive.
Cookie Book
This year marks the 95th anniversary of the first We Energies Cookie Book. The time-honored tradition began as a way to promote electric appliances in 1928. In 2022, we distributed Cookie Books to over 220,000 customers.
Download this year's book, find our distribution schedule and more.