More than 7,000 solar panels in Sheboygan County are now providing affordable, reliable and clean energy to We Energies customers. The 2.25-megawatt (MW) solar project went into service this month.
The project — which is part of the We Energies Solar Now program — is a partnership between We Energies and MilliporeSigma, the U.S. and Canada Life Science business of Merck KGaA, Darmstadt, Germany.
The solar arrays are located on land owned by MillporeSigma near the company's Life Science Center in Sheboygan. When the sun is shining, the solar panels produce enough energy to power about 700 homes.
Under the Solar Now program, We Energies partners with large business, nonprofit and government customers to host solar array installations on roofs and unused land. The clean energy that is produced is delivered to the power grid to serve all customers.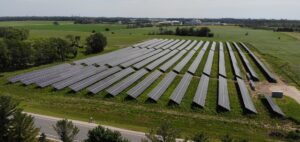 This is the 24th Solar Now project that has been developed and put into service since June 2019. In total, the projects are producing more than 27 MW of clean, renewable energy.
Solar Now is a pilot program approved by the Public Service Commission of Wisconsin. The Solar Now program is an important part of the commitment of We Energies and its parent company, WEC Energy Group, to build a bright, sustainable future.