Kellen Vetter is prepared.
There are plenty of words that come to mind after meeting him. Friendly. Kind. Even heroic. However prepared seems to fit best.
It was Vetter's preparation June 1 that likely saved a woman's life.
"My mom keeps telling me, she said, 'God put me on that road.' But I don't know," Vetter said.
Vetter is a We Energies natural gas technician. On the morning of June 1, he was driving on County Highway J in western Dane County when he saw people in the road. Kellen pulled over, put on his truck's flashers and got out.
He immediately knew the situation was bad.
"I can see a vehicle 50 feet into the woods, rolled over on its driver's side. As I walked toward the vehicle I could hear screaming so loud, it sounded horrifying," Vetter recalled.
Vetter and an older gentleman who also stopped on the side of the road went to the car. Vetter said he looked through the passenger side window and saw a woman trapped in the driver's seat.
"I asked her, 'are you hurt anywhere, or is there anything wrong?' She said, 'my arm is severed,'" said Vetter.
Before starting with We Energies in 2021, Vetter spent more than three years in the U.S. Army, where he served as a paratrooper. His military training told him he needed to stop the bleeding.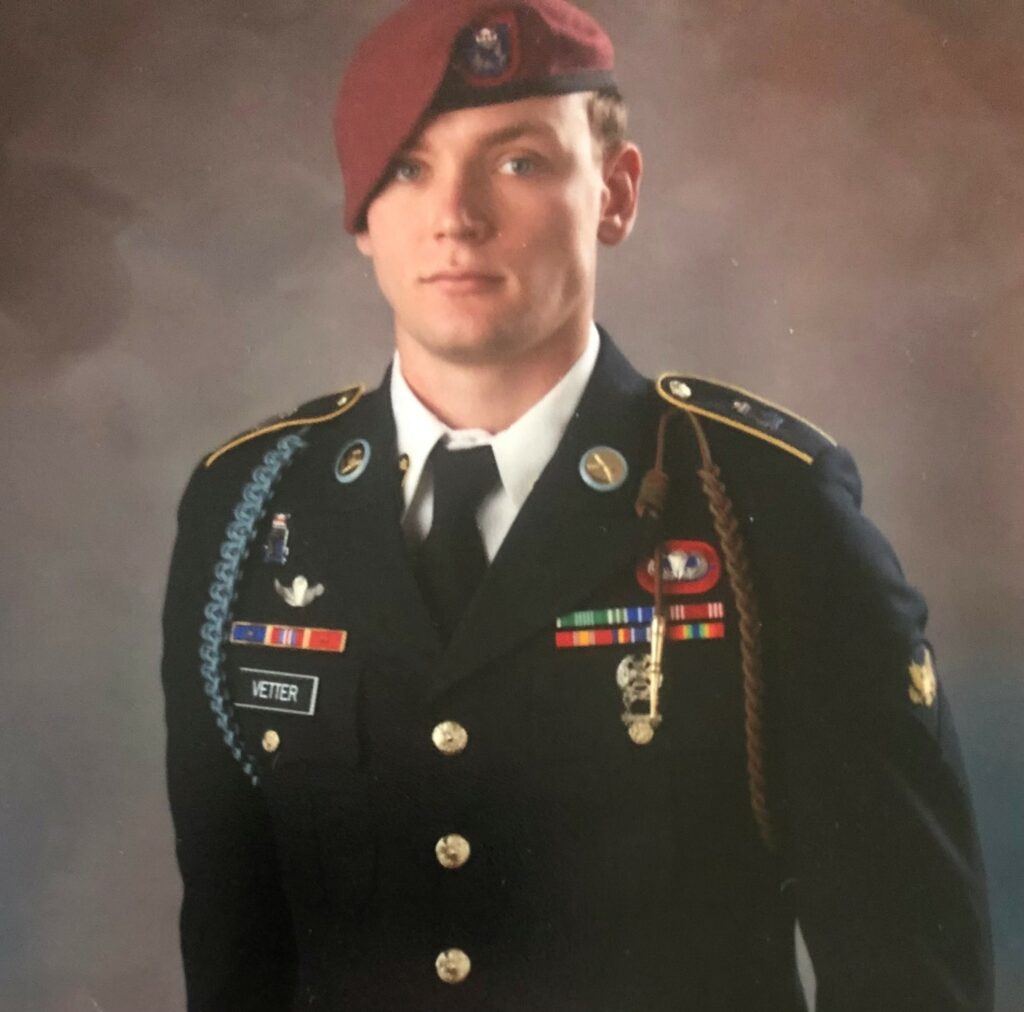 "I just asked, 'does anyone have a belt?' The other man near the car took off his belt and handed it to me. I crawled down on my stomach and I was talking to her, and I was asking her what her name was. I told her to try to slow her breathing down because she kept saying she was really scared."
Vetter crawled around broken glass and twisted metal to reach the woman and applied the makeshift tourniquet.
"I said, 'it's going to hurt what I'm about to do, but it's going to help you.' I put the belt around her arm and I tightened it. She said it hurt, and I told her that's how we know it's working."
Vetter held the tourniquet in place until first responders arrived. "I kept just reassuring her. I said, 'people are on their way, don't worry.' Because she kept telling me she was scared, and I said, 'I'm going to stay here with you until someone comes.'"
Paramedics arrived and took over. Vetter said he made sure they did not need any more help or information and then drove away.
Vetter said he was not supposed to be on that road, but a missed turn, and a GPS recalculation sent him past the accident. "I told my mom and my dad about it. They're happy and proud that I was there and just wanted to make sure I was OK, especially my mom. And other than that, I haven't really told a whole lot of people."
It was a normal Tuesday for Kellen Vetter, a natural gas technician with We Energies. He was on his way to a job site when he missed his turn. He noticed people waving him down. He got out of his truck and was told a woman was trapped in her car.https://t.co/FQShKodcTu

— TMJ4 News (@tmj4) June 30, 2022
A mixed-up GPS, a wrong turn and military training led a We Energies utility worker to save a woman's life after a crash https://t.co/yiyVcv8PKd

— Journal Sentinel (@journalsentinel) June 29, 2022
A We Energies natural gas technician is being hailed a hero after his quick actions saved a woman's life earlier this month.https://t.co/sGnm5xlivQ

— CBS 58 News (@CBS58) June 29, 2022
"I looked down and saw her left arm laying on the ground. It was there, and she was holding it. Pretty clean cut right through." https://t.co/uFKcWdtmg0

— FOX6 News (@fox6now) June 29, 2022