We Energies and Wisconsin Public Service (WPS) are celebrating a major milestone in 2022 — it's been 30 years since the first peregrine falcons were released from a power plant.
To celebrate the program's 30th anniversary, here are 30 fascinating facts about falcons and the companies' efforts to bring them back from near extinction.
The brink of extinction
Peregrines began disappearing in the 1950s and 1960s in Wisconsin and across the world due to widespread use of the agricultural pesticide DDT.
By 1964, peregrines were basically extinct east of the Mississippi River.
It wasn't until the early 1970s that peregrines were put on the federal endangered species list.
Greg Septon, peregrine falcon manager, began efforts to restore peregrines in Wisconsin during the late 1970s while he was working at the Milwaukee Public Museum.
Septon founded the Wisconsin Peregrine Falcon Recovery Project in 1986.
We Energies and WPS were some of the first companies to join the effort to restore the falcon population.
Both companies installed nest boxes in the early '90s.
Power plants make ideal nest sites for peregrine falcons because the raptors are naturally drawn to tall structures along bodies of water like rivers and large lakes, where many power plants are located.
In addition to installing nest boxes at its power plants, We Energies contributed $40,000 to early falcon recovery efforts.
Fifteen peregrine falcons produced in captivity were released from the Pleasant Prairie Power Plant in 1992, kick-starting our peregrine falcon program.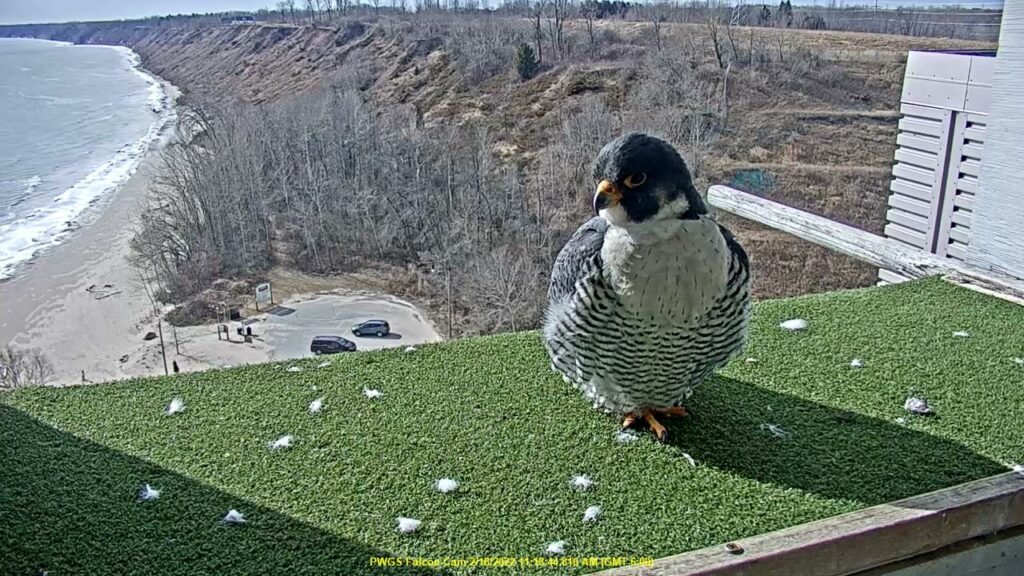 Fast and formidable
Peregrine falcons are the world's fastest animal. In a stoop or dive, they can reach speeds of more than 200 miles per hour.
Scientists estimate peregrine falcon vision is eight times better than humans.
Peregrine falcons have few natural predators. They prey on other birds.
Peregrine falcons generally lay between one and four eggs that hatch in 33-35 days. The chicks will stay in the nest until taking their first flight at about six weeks of age.
Peregrine falcons are about the size of a crow. However, males are about a third smaller than females.
Peregrine falcons will often stay with the same mate for many years, with some pairs staying together for 10 years or more. In fact, several We Energies and WPS nesting pairs have been together for years.
Peregrines have a strong affinity for their nest sites, and even though established pairs may winter apart from each other, they will often return to nest together again in the spring.
They can live to be over 20 years old in the wild.
Peregrines were removed from the federal endangered species list in 1999, but they remain on the Wisconsin Department of Natural Resources' endangered species list.
The word peregrine means "wanderer" or "pilgrim." They are found on every continent except Antarctica.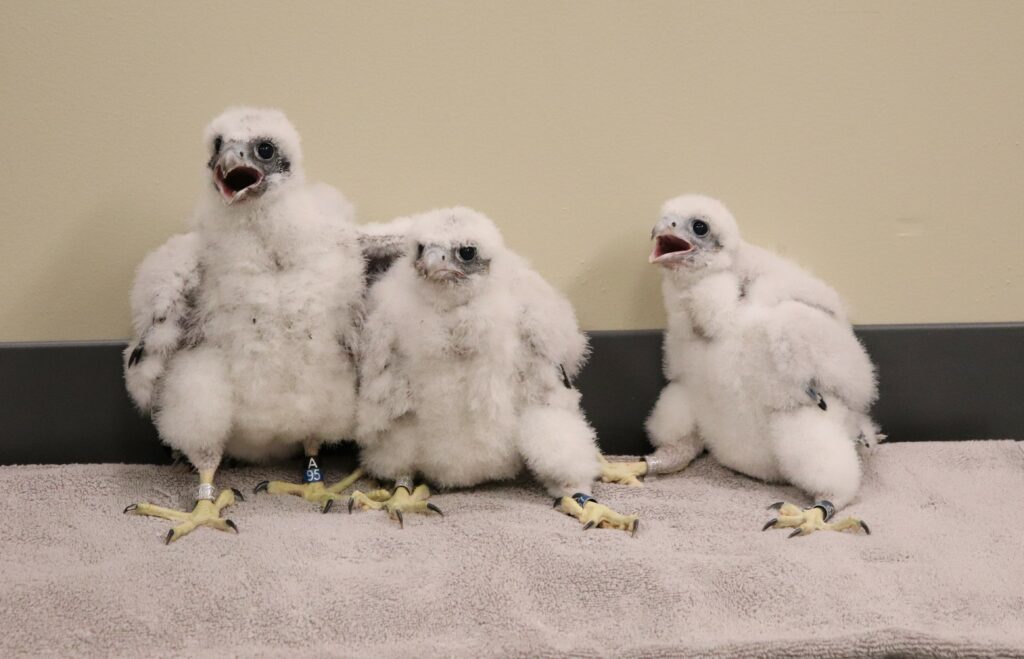 High-flying success story
A total of 421 peregrine falcons have been born, named and banded at We Energies and WPS nest sites.
Twenty percent of all peregrine falcons born in Wisconsin in the last 30 years have been born at We Energies and WPS power plants.
Publicly available nest box cameras have been installed at We Energies and WPS power plants for more than a decade.
Greg Septon, falcon manager, has banded over 1,250 peregrine falcon chicks — approximately 60% of all falcons born in the wild in Wisconsin — during his career.
One of Septon's favorites is the falcon Atlanta. Septon banded her in Green Bay in 1996, and she eventually settled at the Oak Creek Power Plant, where she produced 41 offspring over 12 years.
Another falcon named Kully was born in Menasha and made it all the way to Venezuela — a journey of 2,600 miles.
Last year, Kizzmekia, one of the chicks born at Valley Power Plant, was found injured. Thanks to the Wisconsin Humane Society, he was successfully rehabbed and released into the wild in November.
Information on the falcons after they leave the nest wouldn't be available if it weren't for the identification bands attached to each falcon's leg as a chick.
As part of this program, Septon and We Energies representatives have spoken to thousands of students across Wisconsin over the past 30 years to share the importance of environmental stewardship.
We Energies is looking forward to another successful season in 2022 as we continue our commitment to building a bright, sustainable future.
The start of the 2022 nesting season is just around the corner. Follow We Energies on Twitter, Facebook and Instagram to stay up to date on this year's falcons and — if all goes well — their chicks.
The 30th anniversary celebrations are just beginning. Later this spring, you can help We Energies name the chicks in a special throwback naming contest.