A stretch of the Milwaukee River near Erie and Jefferson streets is undergoing a transformation this summer. We Energies and its contract crews are remediating approximately 45,000 cubic yards of contaminated sediment from the bottom of the river. That's enough sediment to fill 3,000 dump trucks.
This map shows the two work areas.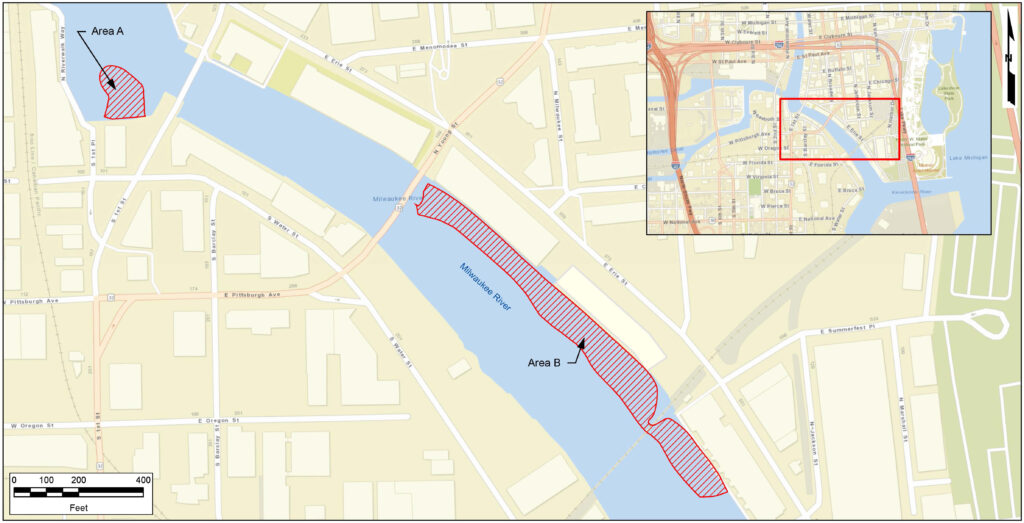 The work underway comes after years of planning, engineering and community outreach. The cleanup will address sediment in 0.6 miles of river, associated with the operation of a Manufactured Gas Plant that shut down more than 50 years ago. The remediation is a combination of hydraulic dredging and installation of engineered cap.
Cleanup work will involve:
Hydraulic dredging (similar to an underwater vacuum).
Installation of steel sheet pile.
Installation of an engineered cap (layers of clean sand, amendments and gravel) to portions of the riverbed.
During hydraulic dredging, sediment is pumped through a sunken dredge pipe approximately two miles to Port Milwaukee's existing Dredged Management Disposal Facility (DMDF) for disposal.
Milwaukee's rivers, which converge downtown and feed into Lake Michigan, were once dumping grounds for industrial pollution. This spring and summer, recreation and commerce will have to share sections of the lower Milwaukee River with dredging equipment.https://t.co/BfNuCK4saD

— WUWM 89.7 FM (@WUWMradio) May 9, 2023
Project benefits
This project is part of a multiyear effort between local, state and federal stakeholders to restore a vital part of the Milwaukee Estuary Area of Concern (AOC). Long-term AOC project benefits include public health, enhanced recreation, water quality, and fish and wildlife habitat improvements.
2023 work timeline
Weather permitting, We Energies Third Ward Milwaukee River waterway activities should be complete by the end of August and the site fully demobilized by October.
Milwaukee River remediation project update – July 17 2023